Our Team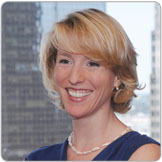 Charlotte T. DeYesso
Charlotte is a founding member of Marble Harbor Investment Counsel and focuses on client service and the firm's operational and administrative needs. She began her career in the investment management field in 2001, supporting David L. Babson and Company's Chief Financial Officer, Legal Counsel and Compliance Director. After being extensively involved with the development of a family of alternative investment vehicles, she moved into Babson's Private Wealth Management Group. Here she took on the role of alternative investments client liaison, tending to the varied and complex needs of hedge fund investors.
Prior to her tenure at Babson, Charlotte worked in the editorial department of the Boston-based marketing and custom publishing firm, Pohly & Partners, writing columns for publications such as TWA's in-flight magazine, Ambassador. Before Pohly & Partners, she was an assistant project director with Stratford Associates in Needham, Massachusetts. There she was responsible for the daily management of quantitative market research projects performed for Fortune 500 companies in the financial services, technology, and consumer and industrial products sectors.
Charlotte graduated from Lafayette College with an A.B. in History and from Emerson College with an M.A. in Writing and Publishing. In her free time, Charlotte enjoys gardening, cooking and traveling with her husband.