Our Team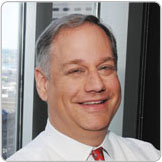 Paul R. Davis, CFA, CIC
Paul founded Marble Harbor Investment Counsel in 2005 and serves as our Managing Member and Chief Investment Officer. He has managed portfolios for families and institutions for more than 20 years. Most recently, Paul was Senior Vice President of Welch & Forbes, where he worked with some of the firm's larger and more complex client relationships. Prior to joining Welch & Forbes, he was the Chief Investment Officer and group leader for David L. Babson & Company's Private Client Group. He also directed the firm's Large Company Growth investing team and was the lead portfolio manager for The David L. Babson Growth Fund. While at Babson, he was co-editor for the widely cited Babson Staff Letter, one of the oldest continually published investment letters in the country. Paul started out managing investments at Yeager, Wood & Marshall in New York where he was a partner and board member.
Before embarking on a career in investment management, Paul was a strategy consultant with Monitor Company in Cambridge, Massachusetts. There he worked with Fortune 50-sized companies in industries as diverse as heavy equipment and packaging to financial services and retailing. His projects involved creating new businesses, restructurings and growth strategies. He also helped the firm to develop a method of rapidly evaluating merger candidates for clients to assist the due diligence processes.
Paul graduated from Dartmouth with an A.B. in Government modified (third honors) and from the Graduate School of Business Administration at Harvard with an M.B.A. (first year honors). He is a Chartered Financial Analyst, a Chartered Investment Counselor and a member of the Boston Economic Club. Paul also serves as Chairman of the Board of Directors of Community Work Services, serves on the Board of Directors of Fedcap Rehabilitation Services, Inc., is on the investment committees of the Green D Founders Fund and the Marblehead Museum and Historical Society, and is a member of both the Boston Estate Planning Council and the Essex County Estate Planning Council.
Paul enjoys competitive sailing, both one-design and offshore, travel with his wife and children, reading and skiing.
Paul focuses his research efforts on the Financial and Technology sectors.